The talk of luxury Turkey hotels cannot continue without a great big mention of the Sacred House in Cappadocia. Here lies one of Earth's most haunting and surreal landscapes, full of mystery and beauty. In the heart of this wondrous place stood a Greek mansion, carved from the very caves set in the side of these magical hills... curling candelabra, reverent icons, colourful hangings and ornate fireplaces just a few of the unique items making this mansion an otherworldly experience. Born of volcanoes and fashioned by wind and winter rains, Cappadocia's extraordinary stalagmite pillars are known as fairy chimneys. Your Turkey holidays 2013 will see the Sacred House creating an amazing suitewhat they are calling the Sanctuary with its own private swimming pool. Carved into the rocks, this will be a welcome addition both to this hotel's repertoire and to its status as one of the luxury Turkey hotels in Kas Turkey
The House Hotel is another fantastic little boutique hotel that sits right on the Bosphorus in an area called Ortakoy and it is within striking distance of great nightlife and restaurants. In your search for Luxury Turkey Hotels, the House Hotel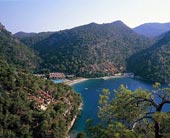 Bosphorus is a landmark building of the late 19th century with magnificent views of the Bosphorus, the historical building has been transformed into a design boutique hotel of 23 rooms, most of which have full or partial Bosphorus views and private balconies and will be a perfect place to look at for your Turkey holidays 2013. The Hotel combines historical glamour with contemporary design. Ortakoy, where the Hotel is located is a lively area with restaurants, cafes and a wide range of stores.
Ready for your Turkey Hoidays 2013 will be the Kalkan Bay View Gardens Hotel and this one is a set to be a little gem another of our Luxury Turkey Hotels in Turkey. It is being designed to be a unique seven suite hotel each with its own pool overlooking the gorgeous Kalkan bay with appreciably fantastic panoramic sunsets. It is located right next to a private beach club with all their facilities. For those hooked on being laid back and 'lazy', do enjoy a typical Turkish romantic horse drawn carriage into town. The Likya Residence and spa has rapidly established itself as one of Kalkan's preferred places to stay
We at Elixir dedicate ourselves not only to luxury Turkish holidays of the highest quality, but also to truly personalised service. Our team is happy to tailor each holiday to the specific needs of every individual customer. We seek bespoke satisfaction. Instead of offering a customary on-line booking service, we would like to take care of you. Please contact us directly.
51 Charlbert
St John's Wood
London NW8 6JN
United Kingdom
Tel: +44 (0) 20 7722 2288
Fax: +44 (0) 20 7722 5131
[email protected]