Luxury villas in Turkey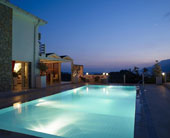 In the charmingly sophisticated town of Kas, you can also spend time in waterfront coffeehouses and restaurants, shopping in smart little boutiques or buying that unique piece in the weekly market. You can also visit the neighbouring area of Kalkan, or walk up the mountain to the cliff tombs.
Your Kas villa is also a good base from which it is easy exploring the plentiful ancient Lycian cities and archeological sites such as Demre (Kale), Patara, Xanthos (Kinik), Letoon, Saklikent and Tlos. Set on a lovely bay under sheer, green mountains, Kas is situated on the site of one of the oldest settlements in the region of Lycia and the slopes overlooking the town are studded with ancient rock tombs. Originally known as Habesos, it was an important port in Hellenistic times, when it was renamed Antiphellos.
Elixir Holidays staff knows Turkey and all the featured Kalkan villas, Kas villas and other properties on our website and are more than happy to share their knowledge to help you tailor make exactly the right holiday Turkey villa that best suits your requirements. Rely on our in-depth knowledge, many years of experience, Turkish language speakers and well-known luxury transfers to enhance your visit to Turkey in a most enjoyable manner.
Transport/Shuttle Service is available for the five minutes (all times are approximate) into Kas. The wide array of Kalkan and Kas villas offered by Elixir Holidays at such a high level of luxury makes Elixir Holidays extremely competitive for families, friends and singles alike. Tours can be organised by in situ staff and the Kalkan and Kas villas are also within easy reach of the award winning 18 kilometre beach in Kalkan not to mention the sunken city of Kekova with its mysterious ring of ages.
For special offers please click here.


We at Elixir dedicate ourselves not only to luxury Turkish holidays of the highest quality, but also to truly personalised service. Our team is happy to tailor each holiday to the specific needs of every individual customer. We seek bespoke satisfaction. Instead of offering a customary on-line booking service, we would like to take care of you. Please contact us directly.
51 Charlbert
St John's Wood
London NW8 6JN
United Kingdom
Tel: +44 (0) 20 7722 2288
Fax: +44 (0) 20 7722 5131
[email protected]